About Us
When it comes to serving authentic African meals in Etobicoke, 24 Seven Lounge and Restaurant is your best option! From our mouth-watering flavour, affordable prices, and friendly staff, our restaurant will leave you feeling truly satisfied. We can be easily located in the plaza at the corner of Highway 27 and Humber college. Join us soon and see why we are known as the most happening fine-dining restaurant in Etobicoke!
Are you unsure what to order for delivery? Our menu features delicious appetizers, rice dishes, and yam, eba, amala, and semo dishes that are perfect for any occasion! To start, try our perfectly cooked Chicken Wings or the Assorted Meat Pepper Soup. For your meal, you must order the Poundo Yam. This exciting meal is yam flour processed with hot water and comes with your choice of efo (vegetable or spinach soup), plain stew, okra soup, ogbono soup, ewedu (jute leaf) soup, or egusi (melon seeds). Another must-try is the Steamed Ofada Rice that is served with ayamase soup, or the classic Jollof Rice that is cooked with blended tomatoes, onions, red pepper spices, and seasonings! Are you hungry now? Our establishment also offers convenient delivery and pickup! Simply view our menu online and have your meal delivered straight to your front door! We are confident you won't be disappointed!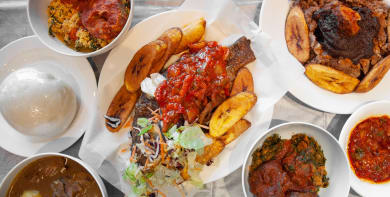 Menu
Contact Us
Find Us
106 Humber College Blvd, Etobicoke, ON M9V 4E4, Canada, Toronto, M9V 4E4
Opening Hours
Monday
2:00 PM - 10:00 PM
Tuesday
2:00 PM - 10:00 PM
Wednesday
2:00 PM - 10:00 PM
Thursday
2:00 PM - 10:00 PM
Friday
2:00 PM - 11:00 PM
Saturday
2:00 PM - 11:00 PM
Sunday
2:00 PM - 11:00 PM
Please note, delivery times may vary.
We deliver to
L4H, L4L, L4T, L4V, L4W, L4X, L6P, L6S, L6T, M3L, M3N, M8W, M9A, M9B, M9C, M9L, M9M, M9N, M9P, M9R, M9V, M9W